Microsoft Advanced Specialization Statistical Insight
An advanced specialization is a validation of a partner's capability to deliver extensive services in a specific subject area. Advanced specialization are customer-facing labels displayed on a partner's business profile in the partner directory, enabling partners to showcase their skills and dedication.
Earning a Microsoft Advanced Specialization bolster up an organization's opportunity to generate more profit and exposure to potential customers. There are currently six advanced specialization categories.
Data Warehouse Migration to Microsoft Azure
Kubernetes on Microsoft Azure
Linux and Open Source Database Migration to Microsoft Azure
Modernization of Web Application to Microsoft Azure
SAP on Microsoft Azure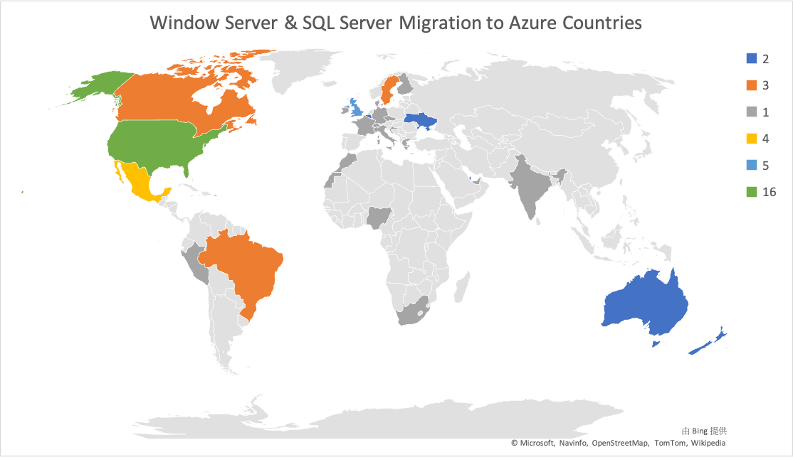 According to the chart above, the number of Windows Server and SQL Server Migration and Modernization of Web Application makes up about 3/4 of total earned advanced specializations.
Windows Server & SQL Server Migration to Microsoft Azure
Since the number of Windows Server & SQL Server Migration to Microsoft Azure makes up almost half of all advanced specialization credentials, thus we would like to dig a little bit deeper.
There were 40 companies that earned the advanced specialization in Windows Server & SQL Server Migration when we first started to gather data from Azure Advanced Specialization at Sep 23rd. As of press time, the numbers have risen to 61.
Take a closer look on the region and nation composition of these advanced specialization holders. It is obvious that most advanced specialization holders of Windows Server & SQL Server Migration are based in the United States, Microsoft's home country, followed by the United Kingdom and the Americas. On the other hand, only 4 Asia-based companies have acquired the advanced specialization, and surprisingly none of them are from Eastern Asian countries (Japan, South Korea, China, Taiwan, and Mongolia).
Modernization of Web Application to Microsoft Azure
In Modernization of Web Application to Microsoft Azure, the second most acquired advanced specialization, the distribution of countries and regions is even more polarized. If countries like South Africa, Israel, and Australia were taken into account, then Western companies have outnumbered non-western companies, comprising 30 out of 34 advanced specialization companies.
The Rise of Microsoft Partners with Technical Specialties
As the demand of cloud has been predicted to rise in the future more organizations will be seeking assistance from a third party to help them migrate to the cloud. At this very moment, the number of advanced specialization is on the rise. For many Microsoft Gold Partner, the goal of achieving an advanced specialization has became an important goal in inducing business development strategies as well as leveraging their Microsoft Partner status.
As number of advanced specialization boom in the Americas, corporates located in Asian countries are starting to catch up with this trend. A few days ago, Caloudi Corporation has become the first to achieve an Advanced Specialization in East Asia. Our Microsoft Partner Business profile has been updated with the new credential, but the Microsoft Advanced Specialization partner list has not been updated with this great news just yet. We believe in the importance of being recognized in our technical abilities in solving client's cloud migration issue and we have emphasized that through earning a Windows Server and SQL Server Migration to Azure Advanced Specialization.